Category:Solar Energy
From Green Policy
<addthis />
Solar Power News
Solar Power, Sun Powered

2023
Record-breaking solar-over-water production farm announced
2021

The world's largest floating solar power and energy storage system is announced. At a cost estimated at $2 billion, the system will be developed by Singapore's Sunseap Group in cooperation with Badan Pengusahaan Batam (BP Batam) operators of a free trade zone in Indonesia and installed at Batam Island.
Under an MOU between the two organizations, Sunseap will develop the floating photovoltaic system (FPV) and ESS energy storage system. The FPV is projected to have a capacity of 2.2 GWp and span around 1600 hectares, making it the largest FPV in the world to date. The ESS is also slated to be the largest ESS with a storage capacity of larger than 4000 MWhr. Construction is slated to begin in 2022 with a plan to be completed in 2024.

○

GreenPolicy360 says: solar-over-water production is a combo that will produce multiple benefits
We've discussed the new Over-Canal study with former Governor Jerry Brown -- the Solar-Over-Water plan is engineering meant for today's climate challenge

Solar panels over water canals and aqueducts could form a real power ticket in California -- and across the planet
Save water (lower water evaporation), create energy in ideal locations (a highest use for unused above-water space), provide worldwide potential for decarbonization to mitigate effects of climate change (with small- and large-scale solar production), construction can vary with modular design and construction lowering costs (solar-over-canals can act as highways for power delivery)

"The SolarAqua Grid model provides a combined, integrated response to addressing our water/energy nexus. It can help address California's underlying vulnerabilities while meeting both state and federal level commitments to produce renewable energy, lower greenhouse gas emissions and mitigate climate change. Solutions such as these are not only viable but more urgently needed than ever before, particularly as the region returns to what many researchers refer to as a paleo-drought — a worst-case scenario for water managers."
Significant evaporation savings, as much as 82% ... That amount of water can make a significant difference in water-short regions."
The UC Solar AquaGrid study comes at a time when there is growing urgency for shifting from fossil fuels to renewable energy. UC engineers are rethinking how aging water and energy infrastructure can adapt to the challenges of sustainable water management, catastrophic wildfires, multi-day power outages and the American West's "megadrought" — an ongoing stretch of extended dry conditions worse than any experienced since 1603, according to a recent report in the journal Science.
"Aqueducts are the arteries of our economic and social development, and have captured the public's imagination for centuries," said former State Water Board Chair Felicia Marcus. "A significant amount of our state's electricity bill comes from moving, treating and heating water, so water efficiency is also energy efficiency. We need to find every way we can to use water more efficiently, including stemming evaporative loss, as we also scale up clean energy to meet the needs of the challenging century ahead under climate change."
Energy and water co-benefits from covering canals with solar panels
SolarAqua Grid Study via Nature Sustainability

Solar power development over canals is an emerging response to the energy–water–food nexus that can result in multiple benefits for water and energy infrastructure. Case studies of over-canal solar photovoltaic arrays have demonstrated enhanced photovoltaic performance due to the cooler microclimate next to the canal. In addition, shade from the photovoltaic panels has been shown to mitigate evaporation and potentially mitigate aquatic weed growth. However, the evaporation savings and financial co-benefits have not been quantified across major canal systems. Here we use regional hydrologic and techno-economic simulations of solar photovoltaic panels covering California's 6,350 km canal network, which is the world's largest conveyance system and covers a wide range of climates, insolation rates and water costs. We find that over-canal solar could reduce annual evaporation by an average of 39 ± 12 thousand m3 per km of canal. Furthermore, the financial benefits from shading the canals outweigh the added costs of the cable-support structures required to span the canals. The net present value of over-canal solar exceeds conventional overground solar by 20–50%, challenging the convention of leaving canals uncovered and calling into question our understanding of the most economic locations for solar power.

··········································································································································
Keeping up with Solar Power

Via Forbes / May 2018
Solar Panels Life Cycle & Recycling
Solar panels often contain lead, cadmium, and other toxic chemicals (e-waste) that cannot be removed without breaking apart the entire panel. For this reason, the whole solar panel is considered hazardous by many experts and governments.
"Approximately 90% of most PV modules are made up of glass," notes San Jose State environmental studies professor Dustin Mulvaney. "However, this glass often cannot be recycled as float glass due to impurities. Common problematic impurities in glass include plastics, lead, cadmium and antimony."
Researchers with the Electric Power Research Institute (EPRI) undertook a study for U.S. solar-owning utilities to plan for end-of-life and concluded that solar panel "disposal in "regular landfills [is] not recommended in case modules break and toxic materials leach into the soil" and so "disposal is potentially a major issue."

End-of-Life Management: Solar Photovoltaic Panets: Report (2016-PDF) from the International Renewable Energy Association (IRENA)
IRENA Finding: "If fully injected back into the economy, the value of the recovered material [from used solar panels] could exceed USD 15 billion by 2050."
Perhaps the biggest problem with solar panel waste is that there is so much of it. All of that waste creates a large quantity of material to track, which in turn requires requires coordinated, overlapping, and different responses at the international, national, state, and local levels.
The first step is a fee on solar panel purchases to make sure that the cost of safely removing, recycling or storing solar panel waste is internalized into the price of solar panels and not externalized... a 'decommissioning fund'.
In July 2018, Washington became the first U.S. state to require manufacturers selling solar panels to have a plan to recycle.
If the industry responds with foresight, it could end up sparking clean innovation including "developing PV modules without hazardous inputs and recycled rare metals." And that's something everyone can get powered up about.
··············································································

At the Forefront of Solar Energy: Manufacturing & Production in China

China reaches its solar energy installation target for 2020, reaffirming its position as largest producer of solar power on earth

China added 10.52 gigawatts (GW) of solar capacity to its national total over the course of July 2017, in addition to the 24.4 GW of capacity that was installed over the first six months of the year. The country is already the biggest producer of solar energy in the world, and that doesn't seem likely to change any time soon.
In the last two months, China has added 24.02 GW of solar capacity. To put that into context, figures from earlier this year put Australia's total capacity at around 6GW, a figure that's projected to double by 2020. The US currently has a total capacity of 44.7 GW.
China has already cleared its goal of reaching a capacity of 105 GW by the end of 2020. The country has now attained 112.34 GW, and as such has tweaked its forecast for 2017, now predicting that this year's installations will total between 40 and 45 GW when all is said and done.
·······················································································
The World Doubled Its Solar Power Capacity in 2016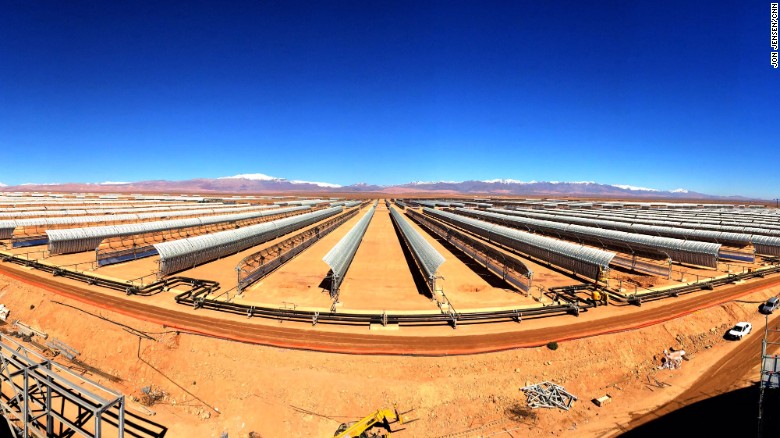 ○ ○ ○ ○ ○ ○ ○ ○ ○ ○ ○ ○ ○
Subcategories
This category has the following 9 subcategories, out of 9 total.
Pages in category "Solar Energy"
The following 109 pages are in this category, out of 109 total.
3

A

B

C

D

E

E cont.

F

G

H

I

J

K

L

M

N

O

P

R

S

T

U

W
Media in category "Solar Energy"
The following 200 files are in this category, out of 708 total.
(previous 200) (
next 200
)

(previous 200) (
next 200
)