Category:Russian Federation
From Green Policy
Eco Russian Federation (Russia)
Green News
Encyclopedia of Life (EOL)
EOL is hosted by: National Museum of Natural History / Smithsonian
"It's all related... It's all connected"

Encyclopedia of Earth (An EOL open source, MediaWiki project)
Russian Federation / Politics
Russia is the largest country in the world, covering more than one-eighth of the Earth's inhabited land area. Russia is also the world's ninth most populous nation with nearly 144 million people as of 2014.
Extending across the entirety of northern Asia and much of Eastern Europe, Russia spans nine time zones and incorporates a wide range of environments and landforms. From northwest to southeast, Russia shares land borders with Norway, Finland, Estonia, Latvia, Lithuania and Poland (both with Kaliningrad Oblast), Belarus, Ukraine, Georgia, Azerbaijan, Kazakhstan, China, Mongolia, and North Korea. It shares maritime borders with Japan by the Sea of Okhotsk and the U.S. state of Alaska across the Bering Strait.

Russo-Ukrainian War

Global Witness - https://www.globalwitness.org/tagged/russia/
RT/Russia Today - https://www.rt.com/

Russia-China Eurasian Economic Development

New Silk Road / Belt and Road Initiative (BRI) - Strategic planning with immense consequence
#Russia <-- --> #China ... #Eurasian Development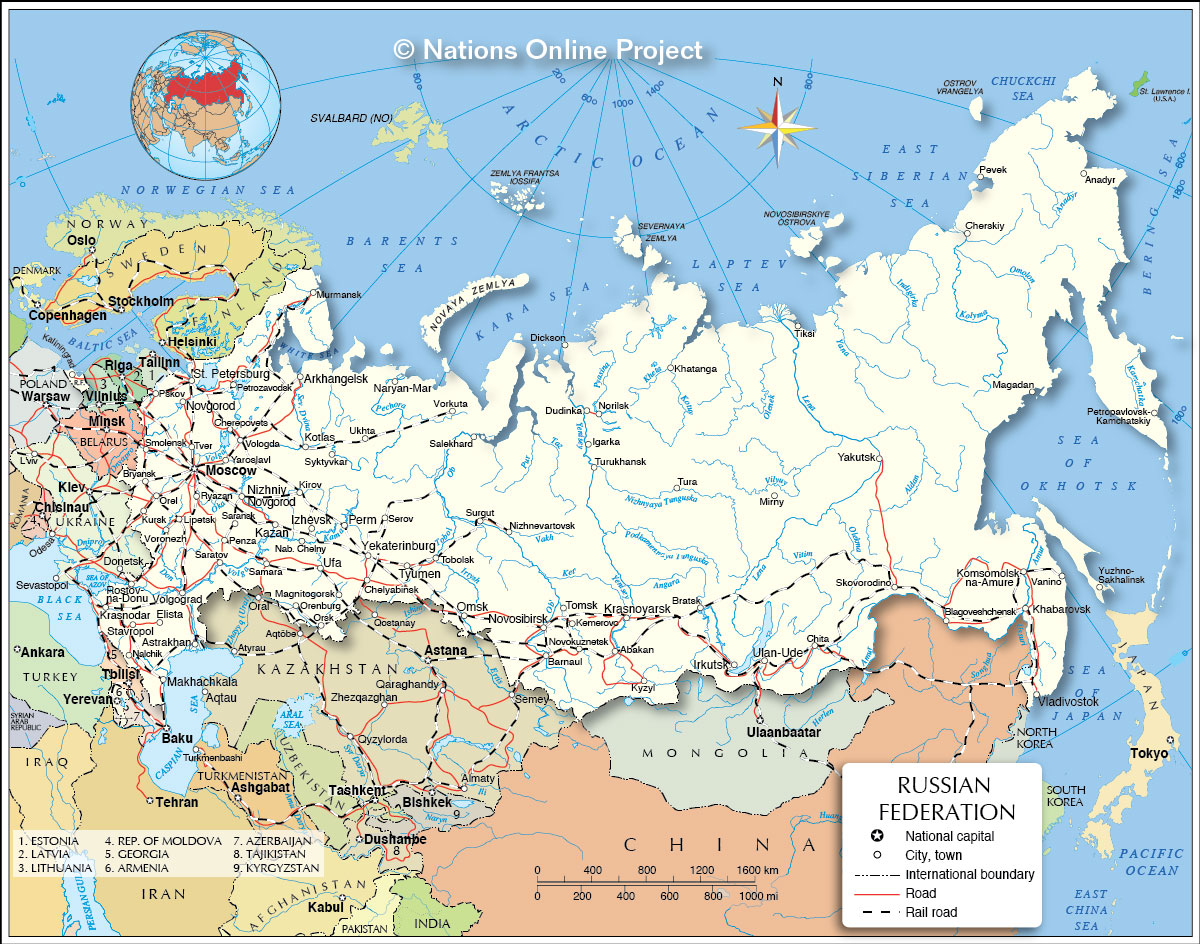 Map courtesy of Nations Online Project
🌎
Subcategories
This category has the following 3 subcategories, out of 3 total.
Pages in category "Russian Federation"
The following 18 pages are in this category, out of 18 total.
Media in category "Russian Federation"
The following 115 files are in this category, out of 115 total.